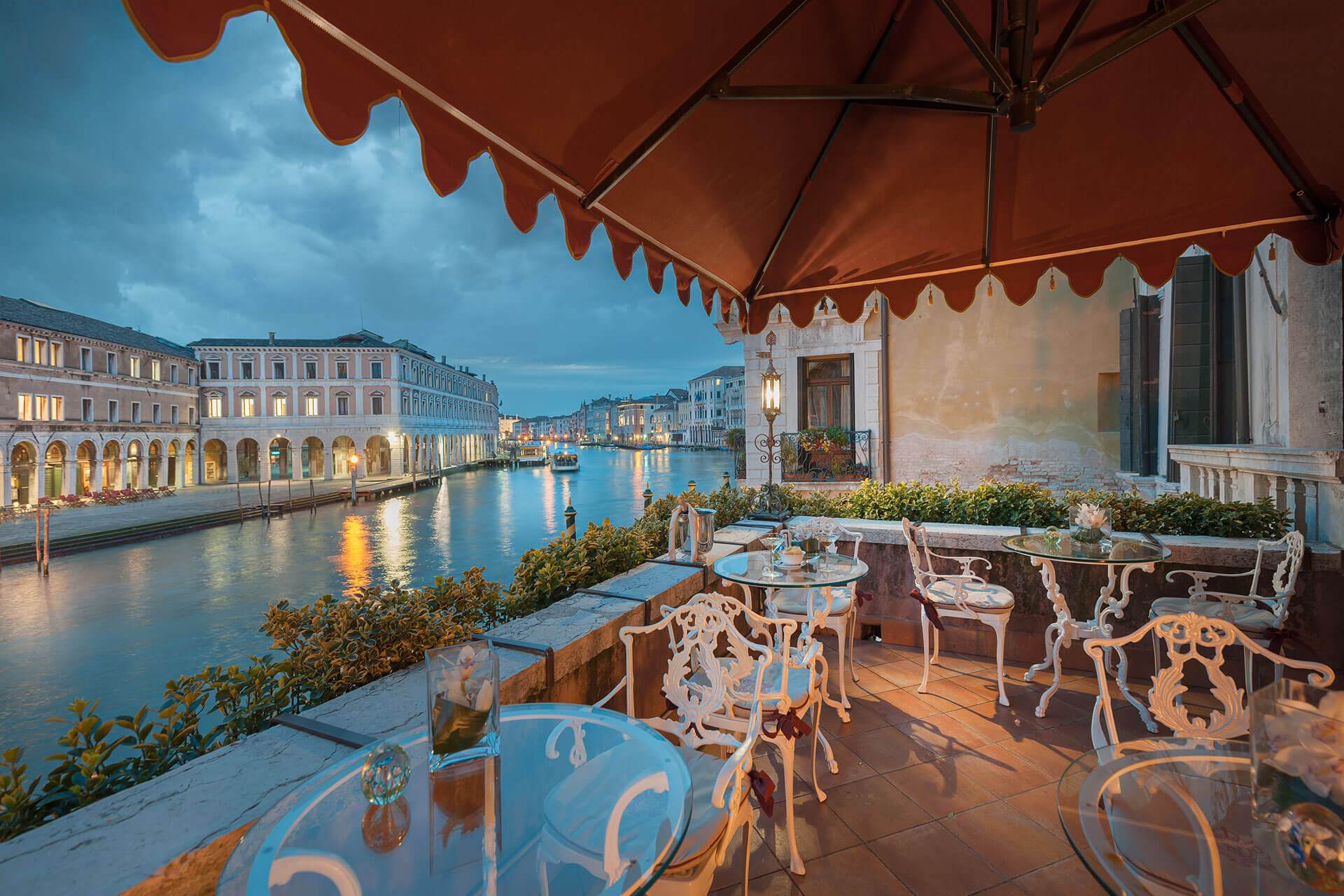 Venice has a wealth of secrets, events to talk about and legends to tell. Of these speak the names of the streets, fields and courtyards, ready to reveal a centuries-old story that enchants and seduces; a fascinating story that Matteo and colleagues will be happy to tell during your stay in Venice, to help you discover the history and culture of a unique city!
The Al Ponte Antico Hotel, located in one of the quietest areas of Venice's historic center, a couple of steps from the Rialto Bridge, has a private wharf on the Grand Canal, a very convenient landing dock for the water taxis that will get you directly to the hotel and will take care of your transfer when you leave.
St. Mark's Square, Venice's living room, surrounded by government buildings and historic cafes, is dominated by the presence of the extraordinary basilica and the gothic profile of the Doge Palace, stretching to the docks of San Marco and Riva degli Schiavoni; it is easily accessible from the hotel after a short walk through the mercerie, the heart of Venice's shopping.
Rialto is the heart of Venice, enlivened by its historic market and innumerable shops and stands where you can truly find everything, from a souvenir to a precious object; the evening, time for an aperitif, calls many Venetians to this place between pubs and small restaurants for a spritz and a tasty 'chicheto'.
The Al Ponte Antico Hotel is close to the Malibran Theater, the suggestive field of Santi Apostoli and the Church of Santa Maria dei Miracoli; the property is immersed in the fascinating quiet of Cannaregio and a few steps from the hidden streets of Castello, where you can find a less touristy and more authentic Venice.
How to reach us
Train/Car/Plane
From the airport, train station, marine station or car terminal in Piazzale Roma, you can comfortably get here using water taxis or private boats since the Al Ponte Antico Hotel has a private wharf on the Grand Canal.
Public transportation
From Piazzale Roma or the Santa Lucia train station, take steamboat line 2 and get off at the 'Rialto' stop; from here go towards the 'Coin' department stores, go across the adjacent bridge, continue for about ten meters and go into the 'Calle dell''Aseo'. At the end you will find the Al Ponte Antico Hotel.
If you arrive from the 'Marco Polo' airport, you can reach the hotel using the "Alilaguna" shuttle that will get you to Rialto, from where you can continue on foot following the indications above.
Venice is reachable by car going through highway A4; after the highway tollbooth, follow the indications for Venice; you can park in one of the available garages in Piazzale Roma.